Cleveland Competitors at Regional Conference picture below:
Medina Johnson, Brittney Nareau, Nichole Cordova, Christina Graham.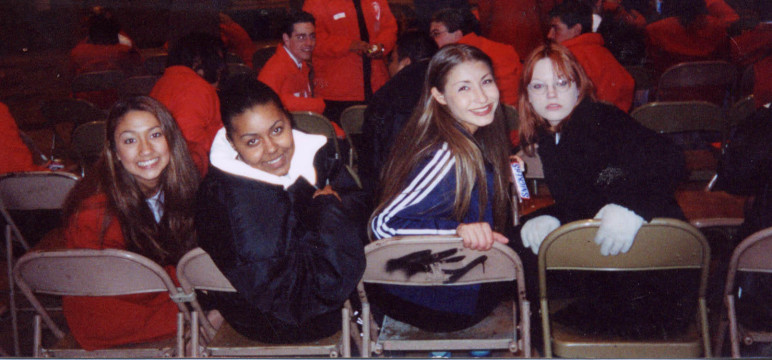 Cleveland Competitors at Past Regional Conferences
Brittney Nareau, Medina Johnson, Nichole Cordova and Christina Graham

Skill Competitions:
3D Visualization and Animation
Action Skills
Advertising Design
Architectural Drafting
Audio Visual Technology
Automated Manufacturing
Automotive Service Technology
Aviation Maitenance
Building Maintenance
California Applied Electronics
California Architectural CAD
California CO2 design
California C02 Racer
California Desktop Publishing
California Intro Drafting A
California Intro Drafting B
California Intro Power Equipment Technology
California Intro Auto Tech
California Precision Machining 1 and 2
California Technical CAD
California Webpage Design
California Welding OXY-ACT
California Welding MIG, SMAW and TIG
Cabinetmaking and Millworking
Carpentry
CNC Machining
Collision Repair Tech
Commercial Baking
Computer Maintenance Tech.
Cosmetology
Criminal Justice
Culinary Arts
Customer Service
Diesel Equipment Tech
Electronic Applications
Electronics Technology
Food and Beverage Service
Graphics Communications
Heating, Ventilation A/C Refridgeration Repair
Industrial Motor Control
Internetworking
IT Cabling
Job Skill Demo A and B
Major Appliance Tech
Marine Service Tech
Masonry
Mechatronics
Motorcycle Service Tech
Nail Care
Photography
Plumbing
PreSchool Teaching Assistant
Precision Machining Tech 3
Principles of Technology
Related Technical Math
Residential Wiring
Robotics and Automation
Sheet Metals
Teamworks
Tech Prep Showcase
Technical Computer Applications
Technical Drafting Combo
Television-Video Production
Total Quality Management
Welding




Competitions:
Competing is one of the most beneficial aspects of SkillsUSA-VICA. In the real world jobs are competition. Its a dog eat dog world. Only the best survive and survival means working.

In SkillsUSA-VICA competition is held as follows:

Regional Competition is usually in January or February. If you place Gold or silver you are moved forward to State Competition.

State Competition in California is in Mid-April. If you place Gold at State, you excel to National Level, and in some cases, if the Gold medalist isnt able to attend National Conference, the Silver Medalists will be excelled to Gold and will compete at National Level in Kansas City, Missouri.

Some competition areas go past National Level and go to the World Skills Olympics.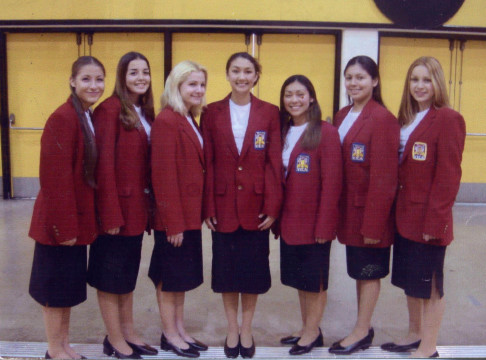 Above:Cleveland's Opening and Closing Ceremony Team for 2001-2002

Below: Kevin and Justin from Oxnard High School with Cleveland Post Secondary Member Chance McCrary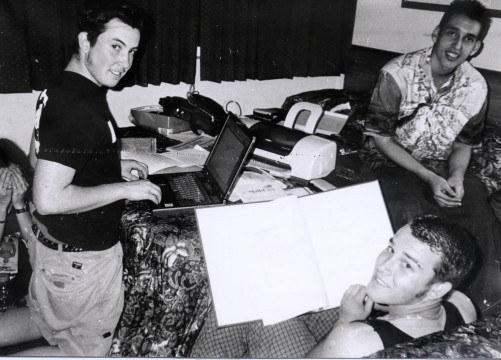 Health Occupational and Leadership Competitions:
First Aid-CPR
Occupatinal Health

American Spirit Award
California 20 Second Elevator
California Public Relations Project
California SkillsUSA-VICA Creed
Chapter Business Procedure
Chapter Display
Community Service
Delegate
Extemporaneous Speaking
Job Interview
Opening and Closing Ceremony
Outstanding Chapter (Scrapbook)Single and Multiple
Prepared Speech
Promotional Bulletin Board
Quiz Bowl